Software Engineering
·
Vigo
·
Hybrid Remote
SW Engineer
Several open positions [Senior/Junior SW Engineer] to join our Development team. [💰 up to 36K + Benefits]. Does it fit you? Apply here!🙌
- ABOUT THE ROLE:
We are looking for various SW Engineers to join our Development team. We need to cover junior and senior positions. The individual offer will fit to the experience of the candidate but here, you can have a general idea about the roles that we are looking for. As a member of this team, you will actively participate in the design, specification and development of software solutions for the current and future products of the company and different R & D & i projects in which it is involved.
You will work on the implementation of systems based on commercial SDR (Software Defined Radio) platforms. In particular, you will focus on the implementation of modular signal processing systems and the integration of middleware on x86 architectures.

Your role will be crucial in the evolution of our key product: Lifeseeker and other innovative projects in the field of emergencies, defence and homeland security.

But one moment, what is Lifeseeker?
Lifeseeker is an innovative airborne system capable of locating mobile phones accurately even in areas without network coverage and under adverse weather conditions. 
The system takes advantage of the enormous social impact that mobile communication technologies have had in recent years in order to turn a mobile phone into an emergency beacon capable of leading rescue teams to its exact location.
Lifeseeker also acts as a relay and can provide a communication channel between the missing person and the rescue team.
Lifeseeker allows to perform searching missions under low or no visibility conditions, including night flights, reducing sweep time of the searching area and optimizing the operational costs. Lifeseeker enables the detection of hidden or buried people, for instance under snow, foliage or rubble.
 - KEY RESPONSIBILITIES:
Your main responsibility will be the development of software according to design specifications.
You will participate in the design of software architectures for new SDR platforms. 
You will have autonomy in making decisions regarding the implementation of functionalities and characteristics of the software system and architecture.
Together with the rest of the team, you will support the present and future product and system design phases.
You will participate in the improvement of the company's development processes.
- REQUIREMENTS:
Bachelor's degree or technical diploma in Computer Science, Telecommunications Engineer or a relevant field.
Strong proficiency developing SW with C/C++ or Python. 
Experience developing on platforms based on Linux operating systems.
At least 2 years experience in a similar position.
We are looking for a result driven self-starter with great communication and collaboration skills; we put a lot of emphasis on being great team players.
Advanced English level is a must: It is the day-by-day language for engaging international partners.
   Also, the following skills will be an asset:
Design and implementation of signal processing algorithms.
Knowledge of cellular communication systems (LTE/5G).
Experience working with architectures based on CORBA or SCA.
- THE CHALLENGE:
We are a company focused on design, development and market state-of-the-art airborne payloads and sensors to perform critical missions in the fields of emergencies and homeland security.
Behind this goal there are 30 people working on sales, product management, software development, hardware design, production and field testing in order to build the greatest products to improve the success rate in high critical missions.
- COMPANY BENEFITS:
We are working hard to develop a great benefits plan for our team with the purpose of maximizing engagement, satisfaction, and work-life balance.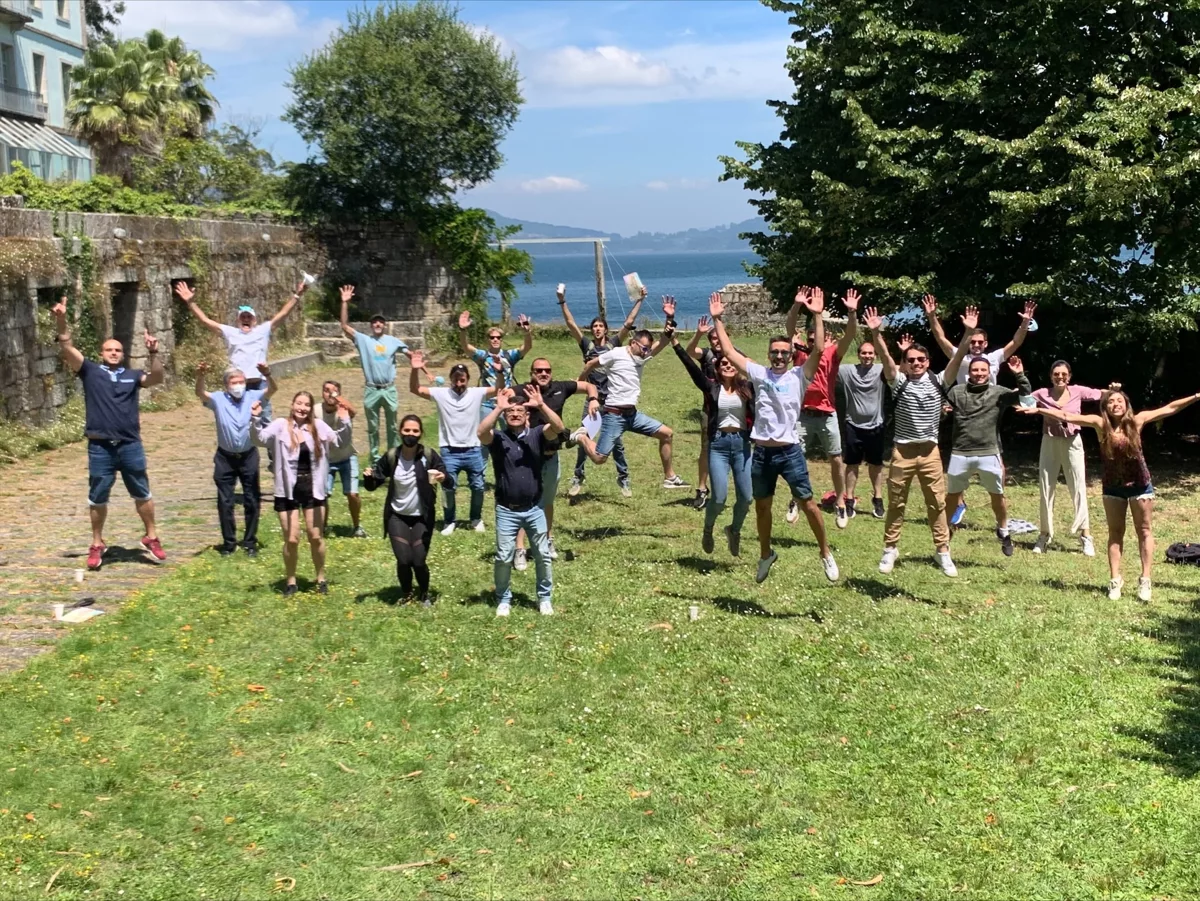 Our benefits are:
Competitive Compensation plan [Up to 36K] 💰
Variable Bonus according to our company goals
Full-time, permanent contract
23 vacation days + 24th and 31th December + Public Holidays
Flextime
Free Friday afternoons
July & August (free afternoons!)
Flexibility to work some days from home
Other benefits paid from the gross salary (ticket restaurant, transport tickets, nursery tickets)
Permanent internal training + your own annual budget for external training (500€)
Team-building activities
Work with the latest technologies + Career progress opportunities
We are so glad you have read this far! We are waiting for you! 

Department

Locations

Vigo

Remote status

Hybrid Remote
Contact
Maria Pascual
Office Manager – Financial & Office Management
our culture & our aim
Our culture is based on our aim to create awesome high-tech products and, at the same time, to develop an awesome team with strong common values in order to be happy and successful together.
About Centum Research and Technology
CENTUM research and technology is part of CENTUM group, was founded in 2010 with a clear vision: "Fly with a purpose".
Our mission is to develop and market aeronautical mission systems in the fields of emergency and security, maximizing results in operations like search and rescue, maritime surveillance, firefighting, emergency communications, and border control.
Our products are based on cutting-edge technology developed by a highly qualified engineering team, with a clear purpose, improve people's lives.
Software Engineering
·
Vigo
·
Hybrid Remote
SW Engineer
Several open positions [Senior/Junior SW Engineer] to join our Development team. [💰 up to 36K + Benefits]. Does it fit you? Apply here!🙌
Loading application form
Already working at Centum Research and Technology?
Let's recruit together and find your next colleague.